We joined hands with Lambeth Council and LDN Apprenticeships to host yet another Lambeth Made Charter Mark Award!
The Lambeth Made Charter Mark Award sets out to recognise and celebrate the organisations, businesses and individuals that have made a postiive impact in the Lambeth community.
The award ceremony was delivered virtually this year but was just as enjoyable.
If you were unable to attend the event please continue reading to see the highlights!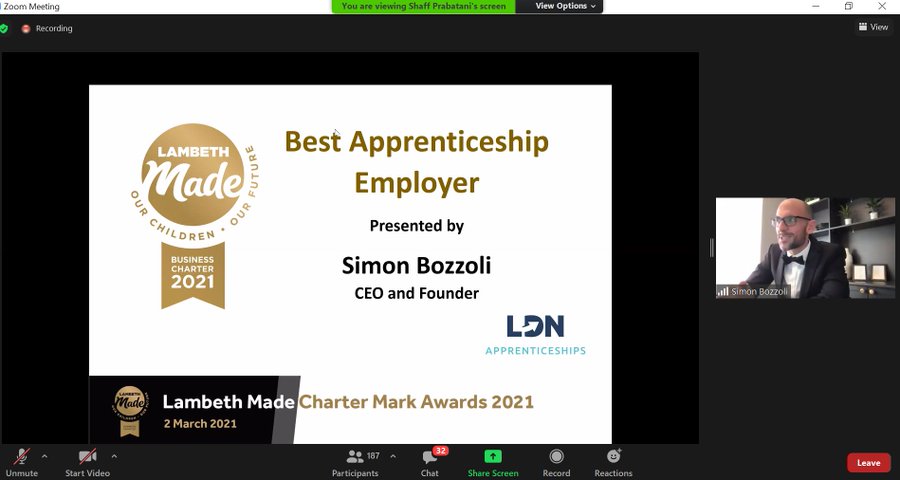 Simon Bozzoli, founder and CEO of LDN Apprentices presented the Best Apprenticeship Employer award to:
Michael O'Mara Books
Pracedo
Royal Society of Arts
Cogent Electrical Services Limited
London Early Years Foundation
St George's Hospital - Winner!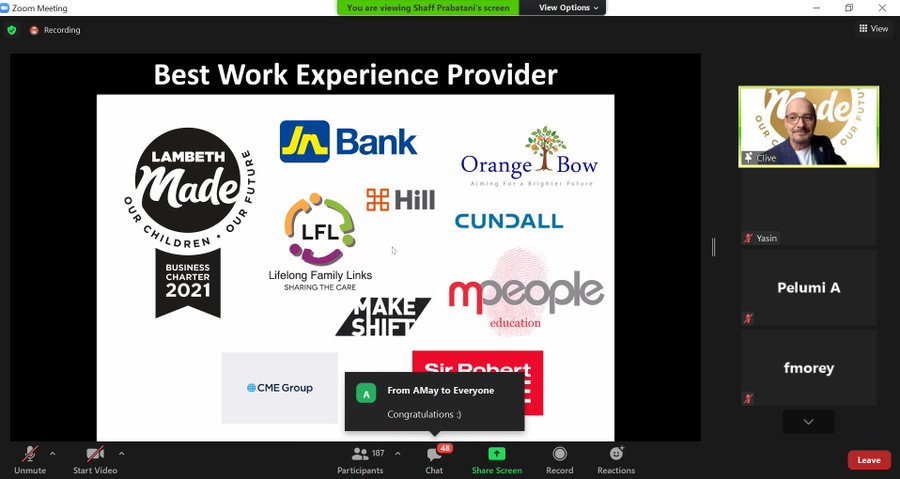 Our very own Employer Engagement Manager, Clive Lissaman, presented the Work Experience Employer award to:
Orange Bow Cic
MPeople Education
JN Bank UK Ltd
Lifelong Family Links
Makeshift Create
Sir Robert McAlpine
Hill
CME Group Cundall

The National Trust - Winner!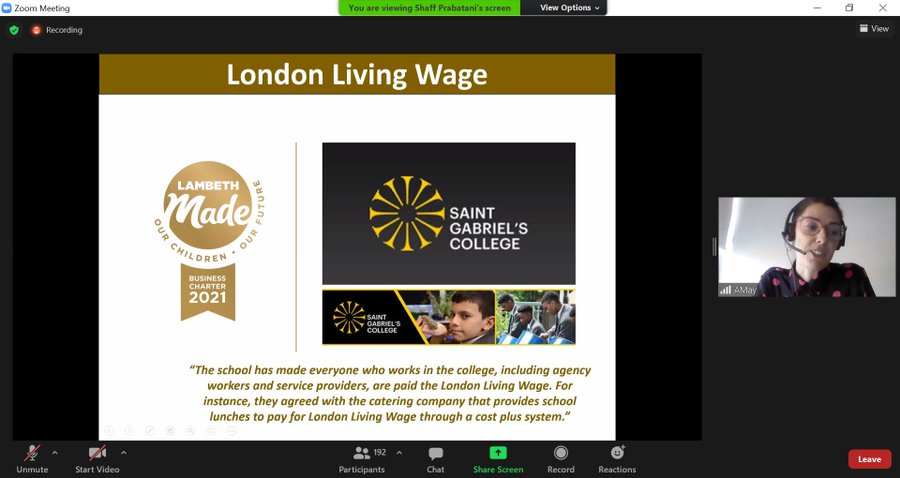 Alison May, the Assistant Director of Jobs and Skills at Lambeth Council presented the London Living Wage awards to:
Lambeth Life Newspaper
Centre for Turkey Studies and Development (CEFTUS)
Sakeya London
Evoke Care
Saint Gabriel's College - Winner!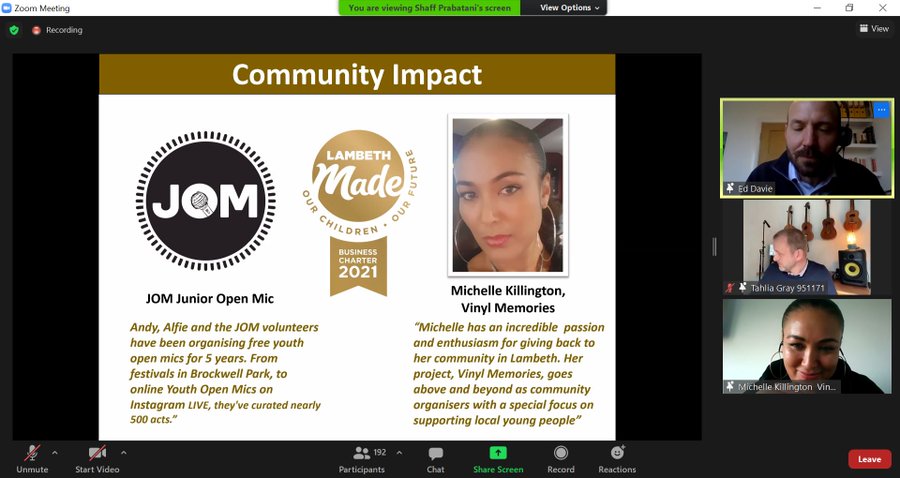 Cllr Ed Davie presented the Community Impact awards to:
Boury Academt
Business Launchpad
Keltbray
Raw Material
Triangle Adventure Playground
Art4Space
Loughborough Community Centre @ Max Roach
Streatham Youth and Communtiy Trust
Grove Adventure Playground
Neon Performing Arts
Drive Forward Foundation
Vauxhall City Farm
No 1 Performing Arts
Coin Street
Little Black Pants Club
Share a Slice
Roadworks
Community Education Foundation
Inspirational Youth Ltd
Pure Vinyl
The Soul Shack LDN
Get Set UK
Lambeth College
Lambeth and Southwark mind
Lambeth College - Faculty of Gateway
Lifelong Family Links
JOM Juniour Open Mic - Winner!
Vinyl Memories - Winner!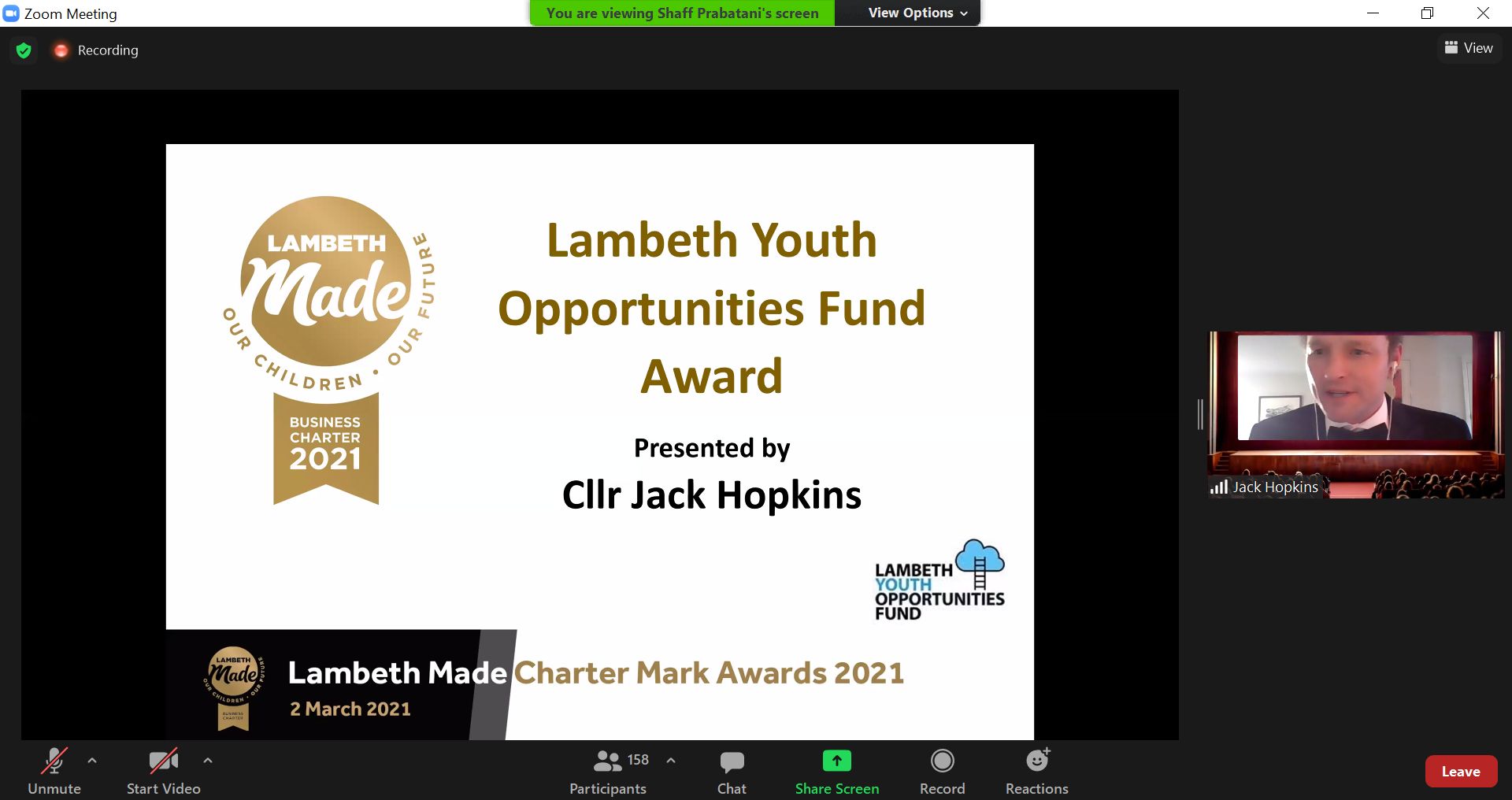 Cllr Jack Hopkins, Leader of the Lambeth Council presented the Lambeth Youth Opportunities Fund award to:
Inner Circle Consulting
Cascade Communications
BECG Communications
MPC - Meeting Place Communications

Four Communications - Winner!
Jack Hopkins also presented the Best Apprentice award to Jessica Taylor, who was very pleased to have won the Best Apprentice of 2021 title!
We're looking forward to celebrating more organisations and individuals next year!
Thank you to everyone who attended and a special thanks to everyone who nominated the business/organisation/individual of their choice. You gave us the opportunity to recognise and celebrate their contributions.
We hope you'll join us again in 2022.